Graduate Student Guide: Difference between revisions
Jump to navigation
Jump to search
Line 189:
Line 189:

*[http://iss.wisc.edu/ International Student Services]: the UW's International Student Services

*[http://iss.wisc.edu/ International Student Services]: the UW's International Student Services






*Student organizations:

Student organizations:






*[https://win.wisc.edu/organization/asauw Arab Student Association]

*[https://win.wisc.edu/organization/asauw Arab Student Association]
---
Revision as of 21:11, 6 June 2022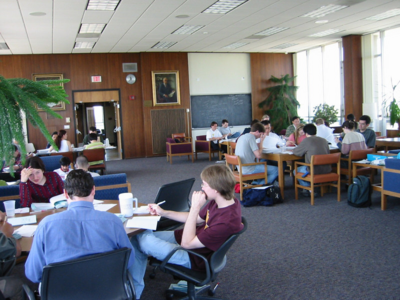 Food
There are many ethnic and interesting restaurants in Madison – Indonesian, African, Italian, Himalayan, Laotian, Peruvian, Mexican, Bakeries, Brew Pubs, Coffee Joints, you name it -- and everyone has their favorites.
The biggest resource for finding food (and entertainment!) in Madison is probably the local paper, the Isthmus, where you can search local restaurants by name, locality, and cuisine. There, they have hours, contact info, pricing, etc. Of course yelp is always useful as well. At one point a couple spent a few years trying to sample every restaurant in Madison and blogged about their journey on the Madison A to Z.
Here are some general food facts:
Campus Food
Food Carts: Open for lunch in Library Mall at the foot of Bascom Hill near Lake & State Street. Very good and very cheap, and out as long as it's not too cold.
Badger Market in Ingraham: Very close to Van Vleck, and has acceptable coffee (bring your own cup to save money!) and decent snacks. Try the Badger Bundle lunch special: sandwich, drink, and a side for $1 off your total. Halfway down the hill is the Crossroads Cafe which has much better coffee and is open later.
Memorial Union: The Rathskeller has food and next door is Lakeside cafe with much better food. Summer afternoons on the terrace is an excellent place to hang out in the sunshine with a beer and brat.
Union South: Features a pizza place, a pan-Asian restaurant, a sandwich shop, a sports bar (burgers and sandwiches) and an ice cream stand.
State Street (past the food carts) is full of restaurants and Coffee shops – there are at least a half dozen coffee roasters in town, and each supplies a different set of shops. In particular for lunch, there are the popular chains, such as Potbelly Sandwich Works, Einstein Bros. Bagels, or Chipotle... or hit the more independent spots such as the Sunroom Cafe or Ian's Pizza.
Residence Hall Cafeterias are pretty decent here, but filled with undergraduates! Enter at your own risk!
MadTown food
Traditional Madison foods are German varieties such as beer, cheese, and bratwurst. Once a year Madison hosts Bratfest, a record breaking event. UW has Babcock Hall Ice Cream on campus which creates delicious ice cream available in the Unions. The Chocolate Shoppe, Michael's Frozen Custard and Culvers have nice deserts. Micro breweries in town include the Great Dane, Captial Brewery and Ale Asylum. Nearby there is the famous New Glarus Brewing Co which only sells beer in Wisconsin. You can join a free beer tour or walk through the brewery on a self guided tourn.
In early September (Labor Day weekend), check out Taste of Madison to see many restaurants all in one place at one time.
Try a good ol' midwestern Fish Fry on Friday night – All you can eat fried fish generally served with a bran muffin, clam chowder, or coleslaw. Most Brew Pubs and some churches have them.
Farm fresh food
The Dane County Farmer's Market is amazing and HUGE. The big one is open every Saturday morning, and is located on the capitol square for most of the year. In addition to the ludicrous amount of fresh produce, there are also bakery stands, coffee, and fresh juice carts for quick breakfasts.
There are also a few smaller markets scattered around town, almost every day of the week.
During the summer and fall, there are many local farms where you can pick your own strawberries, raspberries, apples, or pumpkins when they are in season.
If you're in town for the summer, you might consider signing up for a Community Supported Agriculture food box. CSA is a way to support a local farm by paying an annual fee in the winter or spring which buys you a share of the season's harvest. Once harvesting begins, members pick-up a weekly box of fresh foods which may include produce, fruits, cheeses, eggs, meats, poultry, flowers, herbs or preserves. The typical CSA season in Wisconsin runs from the end of May through mid-October. You do have to pay the lump sum up-front, and some weeks you'll find yourself with five pounds of chard... but for most of the summer you'll have your produce needs met, and you can feel good about supporting small local farms. Better yet, most of the university's insurance providers offer rebates. If you're interested, remember to sign up early -- most programs are full by May.
Grocery Stores
Generic Groceries
Capitol Centre Market: Given their small size, they have an excellent selection of groceries. They tend to be a bit pricey. In addition, they deliver groceries.
Fresh Madison Market: A reasonably large general grocery store, not too expensive. Has a large selection of "typical college items" (lots of frozen foods). Located on University, not too far from Van Vleck. They also deliver groceries.
Pick 'n Save: Your standard grocery store with multiple locations.
Costco: Your friendly big-box bulk store. They treat their employees incredibly well. Good buys on computers, 2 lbs of sockeye salmon or button down oxford cloth long sleeved shirts. You'll need a membership or go there with someone who has a membership. You can also get a free trial membership if you simply ask.
Walgreens: Pharmacy/Grocery store. There is a Walgreens on the corner of Lake & State Street near Van Vleck, on the Capitol Square, at East Campus Mall, and in University square.
Whole Foods: Kinda pricey, but good bread, specialty stuff, and produce through the winter.
Woodman's: two locations -- West and East. If you have a car and the time, go here. Very large, very cheap, but time consuming. They don't take credit cards, so bring a debit card or check book. Check out the liquor store for a large selection (you can buy all types of alcohol in grocery stores in Wisconsin... but not after 9pm).
Trader Joe's: Located at 1810 Monroe St. They have good prices for select specialty food items such as wine, cheese and fancy snacks. Their basic foodstuffs tend to be a bit pricey.
The Jenifer Street Market located on 2038 Jenifer Street is a nice little grocery store if you happen to live in the area.
Co-ops
Co-ops are a good source of local organic food. If you are a member they provide discounts, but you can also shop there at your own will.
Willy Street Co-op The largest and most active co-op in the Madison area. They offer a large selection of bulk foods and spices at an excellent price. For a quick bite, they have an excellent deli, salad bar, and in-store coffee shop. They now have three locations - East, West, and North. All 3 locations deliver groceries.
Specialty Foods
Asian Midway Market: The go-to market for anything Thai, Chinese or South-East Asian, this centrally-located store comes highly recommended. In particular, they offer a great selection of specialized produce. 301 South Park Street; 608-255-5864
Brennan's Market: Great for Produce, Meats, Cheese, Micro brews and Wines. You won't find things like Flour and Saran Wrap here, but definitely worth the trip.
Farm Fresh Atlas: Not a grocery store, but a good resource for where you can buy local foods and a list of farms in the areas.
Fraboni's: An awesome Italian grocery store and deli. They have very good olive oils, pastas, and make-your-own pizza fixings.
Garden Asian Market: A full service Asian food market specializing in fresh meat, produce, and seafood. Mostly Chinese-leaning, they do a good job of providing a wide variety of items within their niche. It may be far out, but it's worth the trip in its pleasantness and selection.
India House: Really well done Indian grocery store. Good place to buy Kari leaves.
Lee's Oriental: Next to Penzey's spices. 3240 University Ave; 608-231-1593
Oriental Food Mart: They carry mostly dry-goods, and tend to lean toward stocking more Korean items. 1206 South Park Street; 608-255-0326
Housing
Haven't found a place yet? Already hate your apartment?
Again, craigslist is a good resource. Also a good place to look for roommates outside of the department.
University Apartments: On campus graduate housing, particularly popular with married couples (especially with children). Singles are also welcome. Many of them are on the bus route #80, a free route which runs from the apartments through campus every ten minutes throughout the day.
Location, Location, Location
If you would like to keep your commute down, there are many places near campus. Many graduate students prefer to live close enough to Van Vleck to be within walking distance, yet far enough away to stay away from partying undergraduate students.
Many graduate students live in the Vilas neighborhood, which is located South of Regent Street and between Park and Monroe. East of the Capitol building, we also have the Willy St. neighborhood (between Williamson and Rutledge streets, between Paterson and Thornton) and the other side of the Isthmus, between Mifflin and Lake Mendota. The university offers on campus housing at Eagle Heights with regular buses. Many students also live near Sheboygan and University Avenues (not on this map), and there are regular buses that run up University Avenue that will drop you off right in front of Van Vleck. The large apartment complexes in that area include the Normandy, Chapel Hill, Carolina, Monticello, Hilldale Towers, Park Towers, and Sovereign Apartments which are cheaper to live in than spots on the square.
Because there is no parking on campus, you will need to plan on living within walking distance of a bus route or campus itself. You will receive a free bus pass for the Madison Metro system, which is very reliable. Check out the "plan your trip" link to find bus routes near you.
Here is an approximate map of many areas where you will be likely to find housing: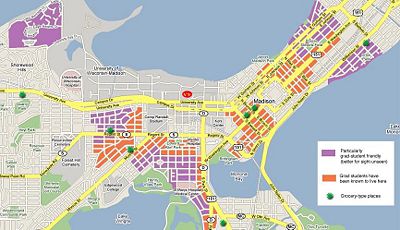 Basically, shoot for zones 2-6, the North parts of zones 7 and 8.
Stuff your landlord might not tell you
Lots of apartments have water, sewage, heat, and and sometimes electricity included in rent. For those which don't, be sure to find out what to expect through the Madison Gas and Electric web page. Just tell them the address of the place you're looking at, and they'll tell you what the highs, lows, and averages have been over the last year.
The City Assessor has all of the basic information about Madison properties on file, including how many units are on the property, how much square footage there is, if there's AC in the building, what school district it's in, who your alderperson would be, and what else is on the property (e.g. garages). They'll even tell you how much the property is worth, and how much your landlord is paying in property taxes. Sometimes the square footage isn't broken up--for example, maybe there are two units on the first floor, but they'll only tell you that there are 1,700 sq ft on that floor, not how it's split up between the two units. It can be a useful site for rounding out your knowledge of places you're considering renting.
The Tenant Resource Center is a small non-profit membership organization which provides housing counseling, mediation services and office assistance. Their website includes tips for new renters, generic rental forms, and advice for what to do if your landlord just won't get back to you about repairs, returning deposits, etc. They have a UW-Madison office on campus.
Rental Companies
Many properties in Madison are run by rental companies -- some large, some small -- some good, some not-so-good. Larger companies tend to have lower prices, and more people working toward maintaining rentals. However, they may have less of an investment in taking care of each individual property or screening their tenants. Some people feel better renting from small companies, or landlords with only one or two houses. You may get more individual attention and care. Individuals have more investment in protecting each property, and renting to good tenants, so the properties tend to be in more reliable condition. However, with fewer properties comes fewer resources and higher prices.
Whatever choice you make, be sure to have a conversation with your potential landlords about their polices, especially if you aren't going to be able to see things in person. It may also be good to Google the company or person to see if other people have had something good or bad to say about them or their properties. In particular, ApartmentRatings.com has a few of the apartment complexes around town listed.
Here are some general impressions/very subjective opinions that some of us have gotten from/about a few of the larger local companies:
AB Holdings: In particular, they have a couple small apartment buildings on Vilas that are particularly ideal for two people. Quite a few people from the department have rented these units and have been pretty happy.
Apex Property Management: Great company. Well-maintained properties, with many of the more recently remodeled rentals being very nice. Their representatives are helpful and responsible, and their tenants seem to be generally satisfied.
Madison Property Management: Lots of choices, but notoriously junky properties. They tend to cater mostly to undergraduates, and their rentals show it. We wouldn't recommend renting from this company unless you visit first.
Tallard Apartments: Nice properties with very friendly and responsive staff. Their rentals tend to go early in the season.
The Wright Company (or Norris Ct. Apartments): Very nice older buildings, but kind of sketchy management. Nothing is going to be in stellar shape, but they do tend to rent more to graduates and professionals, so they aren't beat up either. If you do rent from them, don't expect them to be very responsive, and be sure to be especially careful about protecting your security deposit by taking photos and keeping a record of your move-in report.
Transportation
Bike Madison City of Madison Bike Map, Plan Your Ride, and more.
Madison Metro Madison bus service. Students get a yearly bus pass as part of their segregated fees. Bus routes and schedules and Google Transit Planner.
ZipCar is a Madison-based carsharing company that rents cars by the hour to individuals and organizations. Members share access to a fleet of gas efficient vehicles located in reserved parking spaces throughout the city.
Furniture
St. Vincent DePaul's: Like Goodwill. Has cheap dressers, desks, chairs, and general household stuff. Will deliver for a small charge. This is also a great place to donate any furniture or other items that you no longer want – they will pick up the items from your apartment. There is also a Goodwill in town, but they won't have nearly the same volume of furniture.
Craig's List: a free online classifieds site. Great not only for furniture, but also pet resources and last minute apartment hunting.
Eagle Heights Apartment Bulletin Boards: Lots of cheap stuff from people graduating, many of whom are moving overseas. You can even find cars. You can try posting your own wanted posters on the boards. You can find these boards at the bus stops for the (free) bus 80 route.
Freecycle: A community "give stuff away for free" website with a Madison branch.
Hippie Christmas ("Move-Out Day"): For some reason or another, the evening of August 14th is when the bulk of leases near campus turn over. This is a fantastic day to pick up free furniture from the street. If you already have a rental van, why not help municipal waste by picking up a bookshelf for them?
Steinhafels is just west of park street on the beltline and has furniture and mattresses.
SWAP. The UW's surplus supply store.
Goodwill, multiple locations all over the city.
International Student Resources
Here are a few links specifically for international students. There are international grocery stores listed in the groceries section.
Student organizations:
Newspapers
The Capitol Times: Standard local newspaper, printed daily in the afternoon. Of the two standards, this one tends to be the more liberal.
The Isthmus: Free independent Madison newspaper. Has a liberal voice and is full of entertainment, including family fun, outdoor attractions, and fine arts. Also puts out the Annual Manual - the yearly guide to all things Madison.
The Onion: While hilarious, this paper is only really good if you're already in on the joke. We get free paper copies in Madison. There is a stack near the elevators in VV. The local edition has local entertainment listings.
Wisconsin State Journal: Standard local newspaper, printed daily in the mornings. Of the two standards, this one tends to be the more conservative.
Religious Groups
Blackhawk Evangelical Free Church: Near Sheboygan Ave. at 110 N Whitney Way. A huge church, but with opportunities to get involved and meet people. It has services in the sanctuary, with a mixture of traditional and semi-modern worship, and also "video cafe" services with more lively, modern worship. Very good teaching.
The First Unitarian Society of Madison. "A liberal religious community that encourages individual spiritual growth and community action in an atmosphere of warmth, freedom of belief, intellectual curiosity, and open dialogue." Looking for something new? They're open to all types. Also, they are housed in a historic Frank Lloyd Wright building.
Fountain of Life: 1717 Fish Hatchery Rd. A multi-ethnic church with a lot of eclectic music styles, including a lot of Gospel music
The Geneva Campus Church: On Campus Reformed church. They describe themselves as "a university church for the whole family"
Hillel: UW-Madison's on-campus center for everything Jewish: religious, cultural, political, traditional, and alternative. Located on Langdon Street, it serves both the school population and, to a far lesser extent, the entire city.
InterVarsity Grad Christian Fellowship: It's a welcoming place for Christians and non-Christians alike. (You might even find your future husband/wife there) They also have a website with info about local churches. There is a new student picnic at the beginning of the fall semester.
Latter Day Saints: There are a number of Church of Jesus Christ of Latter-day Saints wards in the Madison area. The Madison First Ward covers areas closest to campus and meets at 4505 Regent Street, two blocks south of Hilldale Mall, at 9am. The University Ward serves single adults and meets at 1711 University Avenue at 10 am. The Madison Third Ward serves areas close to campus and meets at 701 Bear Claw Way on Madison's far west side at 11 am. Visitors and the curious are always welcome.
Mad City Church: A non-denominational, casual christian fellowship. Services are held in the LaFollette High School located on Madison's east side - very near the corner of Pflaum Rd. and Monona Dr. Office at 2713 E. Washington Ave.
Madison UU Young Adult and Campus Ministry (MUUYACM). One of the largest and most active Unitarian Universalist young adult groups in the U.S., they are open to young adults (ages 18-35) of all denominations. In addition to worships, they organize social-justice-oriented activities, and are an active member of the Wisconsin Network for Peace and Justice.
St. Paul's University Catholic Center: On campus in Library Mall near Lake & State. Has a lively Catholic grad student group called Mustard Seed with Bible studies, Thursday night speakers, retreats, service projects, and large quantities of food and euchre.
Unity of Madison: (from their site) "Unity of Madison is a heart-centered Spiritual Community focused on Truth Seeking and Spiritual Growth through the Christ Consciousness of Acceptance, Love, Peace and Joy. Our purpose is to inspire, nuture, and empower all people in their spiritual growth. We provide creative worship, joyful gathering and educational programs as we teach and live Jesus' message that 'the kingdom of God is within you.'"
Zen Buddhism: A local zen buddhist center is located next to Willy st co-op. New comers are especially welcome.
Arts and Entertainment
Madison is a medium sized city with a not so medium sized arts and entertainment scene. There are cultural events on campus and at the Overture Center; sporting events; art, science, natural history, and history museums; parks, the arboretum, and botanical gardens; a free zoo; hiking, biking, and cross-country skiing; a Farmer's Market on the Capital Square every Saturday morning from April-October; and lots of other things. The Isthmus, is the local free newspaper which posts many current events. The Isthmus can be found in many stores, in campus buildings, and on street corners.
Athletic Activities
Rec Sports runs the gyms on campus. There are three such on-campus gyms -- The SERF, the Nat, and the Shell, which are free with student ID. For $25/semester, you can attend any of their Group Fitness classes, which cover everything from aerobics and weights to yoga and dance. Also, both the SERF and Nat have indoor pools.
The University of Wisconsin has a long standing heritage of being proud of their athletic events. Men's basketball, football and ice-hockey receive the most attention and as a student, you can obtain season tickets for all of these events.
MUFA is an ultimate frisbee league that has summer as well as spring and fall seasons. This is a really fun way to stay active and meet some new Madison friends! You don't need to form a team-- just see the link for info about how to join a team looking for more players. Note: the games are often played all over the city and burbs, and are not necessarily reachable by bus. You'll need a car, or a teammate with a car. Also see the link for info about local pick-up games.
Dancing
Ballroom: UWMBDA is the big ballroom dance group here. They have dances with lessons every week on Friday or Saturday and a practice group every Thursday.
International Folk club: meets biweekly Library Mall, Wed/Sun 7:30PM-late.
Swing: Jumptown Swing is UW's swing club. They host (mostly) weekly dances at Union South, and provide lessons for a nominal fee. See their site for scheduling and links to other swing orgonizations. Also, on Wednesdays, there's dancing at the Brink Lounge from 8-11.
Salsa: Venues include Cardinal Bar on Thursdays, Frida's on Friday nights. Don't know how to Salsa? There are lessons before dances at Cardinal, and instruction is offered through the Union's minicourses.
Tango: the Madison Tango Society provides lessons and dances for Argentine Tango. Their site has a good list or other events in and around Madison.
Libraries
In addition to the many Libraries of UW, the Madison Public Library is a great place for books, movies, and music.
Movies
The Isthmus has a listing of movie times for most of the theaters around town (both big and small):
The Orpheum is an old cinema within site of the capitol on State street. They tend to show less mainstream movies.
For on-campus movies:
The Wisconsin Union Directorate runs on campus screening of films. Their film site can be found here.
The UW film department hosts free screenings of a wide array of films based on a given theme for that semester through their cinematheque. Their department has many contacts with other film institutes and are able show rare original 35mm films that you can't see anywhere else.
In late March/early April, go check out some of the many many films showing at the Wisconsin Film Festival. Sites all over town take part in hosting the showing of these films.
Madison also has Four Star Video Heaven, an independent video store that has been voted as a Madison Favorite for a number of years. See their site to browse their collection online.
Music
Whether you're looking to play music, or just go watch free or (in)expensive concerts, there are many options in Madison.
Our very own Music Department hosts many music events. Their website has a calendar listing current music events including faculty concerts and student recitals.
The Madison Symphony Orchestra (MSO) is the professional symphony based here in Madison. With your student ID, you can get student rush tickets for as little as $10 per person.
The Madison Community Orchestra (MCO) is an informal group run by Madison Area Technical College that meets once a week. There are four free concerts a year and no auditions to play with the group.
The Middleton Community Orchestra is a second newly formed community orchestra run by community musicians. Their concerts are extremely affordable, and they may run auditions.
Outdoor Activites
Madison is a very bicycle friendly town, and there are many parks either in town or within a short drive. Here are some suggestions about outdoor activities to engage in:
Take a nice long walk along one of the many paths around Picnic Point... bike the path from Memorial Union out to the tip, or bus/drive out to the base of picnic point and wander the foot trails in the area.
Head towards Monona Terrace on Lake Monona, and take one of the paths that wraps around the lake (great bike ride!).
You can also go walking and/or biking around the Arboretum south of campus and tour their gardens, or head to the free Vilas Zoo. Lake Wingra is essentially totally surrounded by wooded areas including Henry Vilas Park, the UW-arboretum and Edgewood college. You can rent canoes at Knickerbocker for fairly cheap and relax on Lake Wingra.
Community Gardens: There are a number of community gardens run by the Community Action Coalition. Nominally, you can sign up for a plot for a small fee, and learn how to garden if you don't already know, or go to town if you already do. The Eagle Heights Community Garden is open to both residents and non-residents alike. All of the gardens are fun to look at if you haven't ever seen one.
The Olbrich Botanical Gardens are located east of lake Monona. Stroll through 16 acres of outdoor display gardens including their award-winning Rose Garden and Thai Pavilion and Garden, or enjoy the year-round tropical Conservatory, a glass pyramid filled with exotic plants, bright flowers, a rushing waterfall, fragrant orchids and free-flying birds.. Outdoor gardens are open daily and free to the public, while entrance to the conservatory is $1 per person.
Catch a festival; Madison is home to a number of festivals -- big festivals, small festivals, arts festivals, music festivals, film festivals, beer festivals -- we've got all kinds.
The Winter opens itself up to new activities such as cross country skiing, ice fishing, snow shoeing and other options. The hoofers club runs ice boats on the lake.
The city of Madison parks open up outdoor ice skating at Tenney, Vilas, and Elver parks. No skates? No worries. They will rent skates to you there ($6.00 for the first hour, $2/hr after that).
Student Clubs
The University of Wisconsin, being a rather large institution, has got so much stuff going on for all of us student-types. Here are some ways people around the department have been taking advantage:
Craftshop: Located upstairs in the Memorial Union, they are "here to satisfy your creative urges in a variety of craft media." Their facilities include a darkroom, a woodshop, a ceramics studio, metal working tools, etc. Friday afternoons, they open their studios to all union members (that means you!) for free!
Hoofers: Student outdoor recreation club. The Outing and Sailing clubs in particular have lots of graduate students.
IGSA: Indian Graduate Student Association.
GSC: Graduate Student Collaborative Organization
Student Organizations: at UW Madison (this is a directory of all registered student organizations at the university; you can search by topic or name)
The Student Unions
The Memorial Union is located on the lakefront, on Park and Langdon. Be sure to check out the Terrace while the weather is still good -- it's a great place to go to get out of the office, grab something to snack on, and study out in the sun. You'll find the Daily Scoop (yummy ice cream!) and Der Rathskeller (beer and deep-fried goodness). You'll also find all sorts of stuff to keep you busy, like the Craftshop, the Union Theater, the Hoofers' headquarters, and a wide array of Mini Courses with which to expand your horizons.
Also useful: the travel services center and STA Travel will get you good deals on trips (including bus tickets to O'Hare, Midway, and Milwaukee airports), and the theater's box office will get you good deals on shows (theater, music, etc) all around town. In addition, the Union has always got other special events going on to keep all of us entertained -- see their complete list of activities.
The Union South was recently completely renovated and also has many activities available. They have a climbing wall, a bowling alley, pool tables, a beer garden, a wine tasting room, a ballroom, a movie theater and many other things.
Van Vleck Miscellany
Here's a bit more info about the happenings in and around the Math Dept.
Getting money
Paychecks: The first paycheck of the year arrives in October, though you may request an advance on about 30% of your first paycheck when you arrive. If you are not working over the summer, the last will come in June, so be sure to plan for the three month gap.
Fees: You will be charged for segregated fees in both semesters, and are not covered in your tuition. The amount depends on your credit load and status, but will be about $500 for most people and due about the time of your first paycheck. If you are on fellowship, this will be taken care of for you, and shouldn't appear on your bill.
TA union: The teaching assistants of Wisconsin are unionized. Even if you are not a TA, but are an employee of the department, you're still connected to them through advocacy and campus issues. For more information check out the TAA.
Getting stuff done
The administrative staff are the folk that keep our department functioning. Without them, we as mathematicians would be lost.  :) If one person doesn't know how to deal with a problem you might have, they certainly know who might be able to help you out.
If you want to reserve rooms in Van Vleck for review sessions or meetings you can fill out a green form with Sharon Paulson on the second floor. Sharon does the scheduling for about 4 or 5 rooms in the building, so you can also ask her about these rooms directly. If you need to reserve the 9th floor lounge, talk to Michael Wang (also second floor).
Each grad receives 200 photocopies and 250 black and white print outs a month for personal math use. If you are a TA, Sharon in the Copy Center on the second floor can photocopy materials for classes (which does not count toward your quota)– such as worksheets and quizzes. Just give her at least 24 hours notice. To check your printout quota, open a terminal logged into the math server, and type "pages". If you do go over your quota, you will simply get a (probably very small) bill at the end of the month.
We get free office supplies on the 2nd floor – just ask the Receptionist for pens, folders, etc.
You can pick up and send out your mail from the second floor. You might even want to have packages delivered to the department, to avoid missing them being delivered at home (UPS, for example, won't drop off to apartment complexes if you aren't there, so you'll have to drive out to Middleton to pick up your packages).
It's never too early to start studying for quals... early and often, my friends. Early and Often.
Getting together
Historically, some afternoons and Friday before colloquium, we have a cookie and coffee social hour on the 9th floor lounge. Keep your eyes open for announcements.
Definitely check out some of the colloquia and seminars. The earlier you get involved the better. This is a great way to learn more about potential research areas, meet other people in the areas, and meet other mathematicians in other departments. There is a list posted on the 9th floor each week in addition to online.
Once a semester, our group for women in mathematics get together for an informal potluck. We also have been known to bring in women speakers funded by the WiSELI grant.
Miscellaneous Wisconsin Stuff
This section describes miscellaneous Wisconsin stuff that doesn't belong in any other section, such as, a Wisconsin Dictionary for those who aren't familiar with the Wisconsin vernacular.
Voting
Frequently asked questions for Wisconsin voting can be found here. As of the April election, Wisconsin has a law that allows for same day registration at the polls:
If you wish to register to vote at your polling place, you must complete a voter registration application (EB-131), provide your driver's license number (or if you have not been issued a driver's license, provide a state-issued identification card number or provide the last four (4) digits of your social security number), AND have proof of residence indicating that you have lived at your current address for 10 days preceding the election.
Out of state licenses work, and utility bills, bank statements, or pay checks with your name and address on them work for proof of residence.
Car Stuff
Madison has a DMV out on the west side, just past Midvale, at 4802 Sheboygan Ave, and one on the east side out near the airport.
Licenses: As they say on their page for licensing new residents, if you're looking to put your permanent residence here and vote here and generally show up on the radar, you should apply for your WI license within 60 days of establishing residency. Your first baseline license costs $28, and is valid for three years. Note: you will need to take with you, among other things, something like a rent agreement, or a utility bill, UW transcript, or bank statement actually mailed to your WI address (no e-bills). We'll note that math students have been known to wait longer than 60 days to officially apply for residency, but we recommend you don't wait until an out-of-state license expires to get a WI license.
Vehicle Registration: If you own a car and officially become a WI resident, you need to get WI plates. All the information you need is available here.
Parking: First, unless you have a motorcycle, don't plan to park on campus regularly. For parking near your residence, there are some options. Depending on the neighborhood, it's possible to rent a place that has parking included or available for an extra charge. Additionally, if you live in an area surrounded by 2-hr parking zones, you can usually buy a permit (for a little over $20 per year) allowing you to park on the street all day near your home. More information can be found on the City of Madison Parking Utility page. Most importantly, "the vehicle for which you are requesting a permit must be owned by you, your child, your parents/step parents, legal guardian, spouse or registered domestic partner, or be a leased or company vehicle which is assigned to you."
BE AWARE! Winter parking gets all crazy in Madison (from November 15 - March 15). Most of town is on an alternate side parking schedule: cars should be parked on the even (resp. odd) house numbered side of the street from 1:00a.m. until 7:00 a.m. on even (resp. odd) numbered days. If you live on the isthmus in the Snow Emergency Zone, you will only need to do this when the weather gets really bad. You can sign up for alerts when this happens.
If you leave your car in the wrong place -- with winter nonsense or for any other reason -- and it gets towed, you can call the Madison Police Department (266-4260) or Schmidt's Towing (257-0505) to find out what they've done with it.
Taxes
Once you've lived here for an entire calendar year, be sure to look into the Wisconsin Homestead Credit... it's usually worth the time and effort for graduate students. Until then, you can look into deducting moving costs for relocating here on your federal taxes.
A warning to students on fellowship: taxes will not be taken out of your paycheck, but you still have to pay them. You may want to consider filing quarterly.
Wisconsin benefit programs
We don't exactly get piles of money for teaching. In fact, most people who are not on fellowship or receiving summer funding can qualify for some heating aid (up to $380/year), and electricity aid (up to $285/year). You can check your eligibility at Access WI. There may be some residency requirements, like the Homestead credit. You can find your annual salary in our contract.
Residency
While it's usually a good idea to become a WI resident, if, for some reason, you're looking to declare residency in WI for tuition purposes, the answer is usually "no." It seems that one has to be in Wisconsin for a full year before enrolling at the UW, and one has to prove that one did not move here primarily for educational purposes (according to the Wisconsin statutes, you have to provide "clear and convincing evidence"). More on that at the Office of the Registrar's site.
Contacts and Other Resources
Yelp.com: Find reviews of local stuff- restaurants and things to do, but also dentists, auto shops, etc.
VIP, the Visitor & Information Programs office, located in the Red Gym, near Memorial Union. They are open M - F 8am - 5pm and Saturday 11am - 2pm.
Student Orientation Handbook is a valuable resource for information including entertainment, recreational and varsity sports, student organizations (including those for cultural groups, international students, LGBT students, women, veterans, and people with disabilities), health services, jobs, transportation, safety, and housing. It's also a great place for referrals to counseling services, including drug and alcohol and sexual assault issues. You can find all this information on the web, at http://www.wisc.edu/visitingCampus/ or call them at 263-2400. You can also email any questions you have to askbucky@uwmad.wisc.edu.
LGBT Campus Center: The Lesbian, Gay, Bisexual, and Transgender Campus Center (265-3344; lgbtcc@rso.wisc.edu) provides support, social, educational and research services to the campus community, and serves as UW-Madison's first stop for those looking for information about campus LGBT organizations. The Memorial Union office on the 2nd floor includes a library, a television and DVD player, plenty of comfortable seating, open computers, and has a staff of students and professionals that work to bring events, speakers, and programs to campus. The Center also publishes a weekly events e-letter and offers support and social groups.
WIMAW (Women in Math at Wisconsin.)
---
Got Questions? Here are some folks who might just have the answers...
Counseling Services
Counseling services are available through Counseling and Consultation Services (C&CS), located at 115 North Orchard Street, (265-5600, TTY number 265-3300). C&CS offers brief psychological treatment, personal counseling, and psychiatric services to UW-Madison students. Frequent services include help in overcoming depression, managing anxiety and other psychological issues, and in developing greater self-awareness, independence, and self-direction. They also provide personal problem counseling, couples relationship counseling, marriage and family counseling, cross-cultural counseling, and alcohol and drug assessment and referral. Specialized groups have included: graduate women support, women and self-esteem, interpersonal relationships, stress management, survivors of troubled families, rebuilding relationships. C&CS also provides crisis response at the above phone numbers. Services provided are covered by the student health fee (included in your student fees).
Current and Former Graduate Students Interested in Meeting YOU
You can find a complete list of current graduate students here, and pictures can be found here. Email addresses that end with @ are intended to finish with @math.wisc.edu.
   Liban Mohamed
   Email: liban@
   Website:
   Grad-Age: Started 2014
   Area of interest: Analysis
   Ask Liban about: Anything, including in particular coursework, fellowships and housing.

   Hans Chaumont
   Email: chaumont@
   Website:
   Grad-Age: 2012 - 2018
   Area of interest: Undecided
   Ask Hans about: Pretty much anything, but especially about tea or lifting weights.

   Patrick Nicodemus
   Email: nicodemus@
   Website:
   Grad-Age: 2020-2025 
   Area of interest: Logic, category theory, algebraic topology
   Ask Patrick about: Anything, be glad to meet new students on campus.

   Laura Cladek
   Email: cladek@
   Website:
   Grad-age: 2011 - 2016
   Area of interest: Analysis
   Ask Laura about: Anything ...  Especially analysis or on campus housing.

   Nathan Collins
   Email: nathan.collins@gmail.com
   Website
   Grad-age: M.S., 2008
   Area of interest: Computer Science and Logic.
   Ask Nathan about: Pittsburgh, bicycles, and being inferior to Mason at TAing.  He dislikes printers and bad margins.

   Sara Jensen
   Email: jensen@
   Website:
   Grad-age: 2008 - 2014
   Area of interest: Algebra
   Ask Sara about: Teaching, topology & algebra quals, knitting group, going to the gym 

   Christine Lien
   Email: lien@
   Website
   Grad-age: Started 2005
   Area of interest: Complex Geometry
   Ask Christine about: anything, including bridge/card games, organizing women's events, 
   the Association of Asian American Graduate students, and the Graduate Student Topology Seminar.

   Beth Skubak
   Email: skubak@
   Website
   Grad-age: 2009 - 2014
   Area of interest: Probability
   Ask Beth about: anything, including this wiki