Madison Math Circle: Difference between revisions
Jump to navigation
Jump to search
Line 72:
Line 72:





==Donations==

==Donations==

Please consider donating to the Madison Math Circle. As noted in our [https://www.math.wisc.edu/wiki/images/Math_Circle_Newsletter.pdf annual report], our main costs consist of pizza and occasional supplies for the speakers.  So far our costs have been covered by donations from the UW Mathematics Department as well as a generous gifts from a private donor. But our costs are rising, primarily because this year we expect to hold more meetings than in any previous year. In fact, this year, we expect to spend at least $2500 on pizza and supplies alone.

Please consider donating to the Madison Math Circle. main costs consist of pizza and occasional supplies for the speakers.  So far our costs have been covered by donations from the UW Mathematics Department as well as a generous gifts from private . The easiest way to donate is to go to the link:

 

So please consider donating to support your math circle!  The easiest way to donate is to go to the link:






[http://www.math.wisc.edu/donate Online Donation Link]

[http://www.math.wisc.edu/donate Online Donation Link]

Line 82:
Line 80:

Alternately, you can bring a check to one of the Math Circle Meetings.  If you write a check, be sure to make it payable to the "WFAA" and add the note "Math Circle Donation" on the check.   

Alternately, you can bring a check to one of the Math Circle Meetings.  If you write a check, be sure to make it payable to the "WFAA" and add the note "Math Circle Donation" on the check.   






Or you can just pay in cash, and we'll give you a receipt.

Or you can in cash, and we'll give you a receipt.






==Help us grow!==

==Help us grow!==
---
Revision as of 04:03, 28 October 2020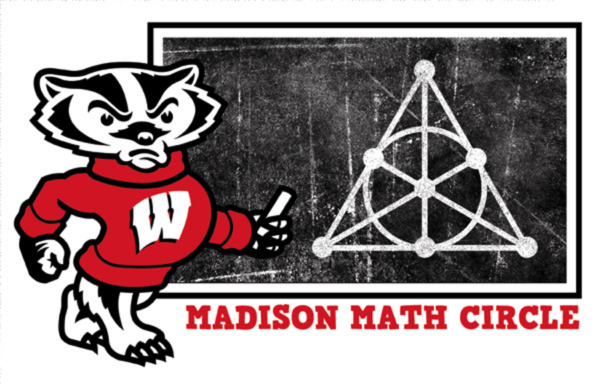 For the site in Spanish, visit Math Circle de Madison
COVID-19 Update
Due to COVID-19, all math circle events are canceled for Fall 2020.
We look forward to seeing you back in Spring 2021.
What is a Math Circle?
The Madison Math Circle is a weekly series of mathematically based activities aimed at interested middle school and high school students. It is an outreach program organized by the UW Math Department. Our goal is to provide a taste of exciting ideas in math and science. In the past we've had talks about plasma and weather in outer space, video game graphics, and encryption. In the sessions, students (and parents) are often asked to explore problems on their own, with the presenter facilitating a discussion. The talks are independent of one another, so new students are welcome at any point.
The level of the audience varies quite widely, including a mix of middle school and high school students, and the speakers generally address this by considering subjects that will be interesting for a wide range of students.

After each talk we'll have pizza provided by the Mathematics Department, and students will have an opportunity to mingle and chat with the speaker and with other participants, to ask questions about some of the topics that have been discussed, and also about college, careers in science, etc.
The Madison Math circle was featured in Wisconsin State Journal: check it out!
All right, I want to come!
We have a weekly meeting, Monday at 6pm in 3255 Helen C White Library, during the school year. New students are welcome at any point! There is no fee and the talks are independent of one another, so you can just show up any week, but we ask all participants to take a moment to register by following the link below:
Math Circle Registration Form

All of your information is kept private, and is only used by the Madison Math Circle organizer to help run the Circle.
If you are a student, we hope you will tell other interested students about these talks, and speak with your parents or with your teacher about organizing a car pool to the UW campus. If you are a parent or a teacher, we hope you'll tell your students about these talks and organize a car pool to the UW (all talks take place in 3255 Helen C White Library, on the UW-Madison campus, right next to the Memorial Union).
Directions and parking
Our meetings are held on the 3rd floor of Helen C. White Hall in room 3255.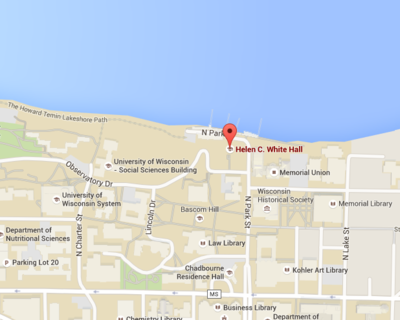 Parking. Parking on campus is rather limited. Here is as list of some options:
Email list
The best way to keep up to date with the what is going is by signing up for our email list. Send an empty email to join-mathcircle@lists.wisc.edu
Contact the organizers
The Madison Math Circle is organized by a group of professors and graduate students from the Department of Mathematics at the UW-Madison. If you have any questions, suggestions for topics, or so on, just email the organizers here. We are always interested in feedback!
Donations
Please consider donating to the Madison Math Circle. Our main costs consist of pizza and occasional supplies for the speakers. So far our costs have been covered by donations from the UW Mathematics Department as well as a generous gifts from private donors. The easiest way to donate is to go to the link:
There are instructions on that page for donating to the Math Department. Be sure and add a Gift Note saying that the donation is intended for the "Madison Math Circle"! The money goes into the Mathematics Department Annual Fund and is routed through the University of Wisconsin Foundation, which is convenient for record-keeping, etc.
Alternately, you can bring a check to one of the Math Circle Meetings. If you write a check, be sure to make it payable to the "WFAA" and add the note "Math Circle Donation" on the check.
Or you can make donations in cash, and we'll give you a receipt.
Help us grow!
If you like Math Circle, please help us continue to grow! Students, parents, and teachers can help by:
Like our Facebook Page and share our events with others!
Posting our flyer at schools or anywhere that might have interested students.
Discussing the Math Circle with students, parents, teachers, administrators, and others.
Making an announcement about Math Circle at PTO meetings.
Donating to Math Circle.
Contact the organizers if you have questions or your own ideas about how to help out.
Meetings for Fall 2019
Talks start at 6pm in room 3255 of Helen C. White Library, unless otherwise noted.
Fall 2019
Date
Speaker
Topic
September 23, 2019
Soumya Sankar
Why don't map makers like high heels?
September 30, 2019
Erika Pirnes
Why do ice hockey players fall in love with mathematicians?
October 7, 2019
Uri Andrews
Self-reference, proofs, and computer programming
October 14, 2019
James Hanson
When is a puzzle impossible?
October 21, 2019
Owen Goff
Symbolic Logic and How It's Really Just Arithmetic
October 28, 2019
Ian Seong
Counting, but Not Like Kindergarteners
November 4, 2019
Omer Mermelstein
Ciphers: To Gibberish and Back Again
November 11, 2019
Colin Crowley
Many Pennies
November 18, 2019
Daniel Corey
The Königsberg Bridge Problem
Meetings for Spring 2020
Talks start at 6pm in room 3255 of Helen C. White Library, unless otherwise noted.
Spring 2020
Date
Speaker
Topic
January 27, 2020
Caitlyn Booms
Magic or Math?
February 3, 2020
Erika Pirnes
Finding Your Roots
February 10, 2020
Xiao Shen
Constructing the 17-gon
February 17, 2020
Ben Bruce
1+1=2 and Other Integer Partitions
February 24, 2020
Brandon Boggess
Pi-ck Up Sticks
March 2, 2020
Solly Parenti
Lazy Math
March 9, 2020
Connor Simpson
Counting Ways to Color Graphs
March 23, 2020
Tejasi Bhatnagar
Canceled
March 30, 2020
Yunxuan Li
Canceled
April 6, 2020 at 4pm
Daniel Erman
Virtual: Josephus Problem and Intro to Research Mathematics
April 13, 2020 at 4pm
Caitlyn Booms
Virtual: To Infinity and Beyond
April 20, 2020 at 4pm
Juliette Bruce
Virtual: Finding the Fastest Slide
Off-Site Meetings
We will hold some Math Circle meetings at local high schools on early release days. If you are interesting in having us come to your high school, please contact us!
Fall 2019
Date
Location
Speaker
Title
Abstract
October 7, 2019
2:45pm East High
Solly Parenti
Tangled Up in Two
Every tangled cord you have ever encountered is secretly a number. Once you learn how to count these cords, cleaning your room will be as easy as 1-2-3.
November 4, 2019
2:45pm James Madison Memorial
Caitlyn Booms
Sneaky Segments
We call a line segment drawn between two lattice points in the coordinate plane sneaky if it does not pass through any other lattice points. During this presentation, we will try to understand exactly when this happens, and we'll discuss how to calculate the probability that two randomly chosen lattice points are connected by a sneaky segment.
November 11, 2019
2:45pm East High
Maya Banks
Tic-Tac-Topology
Tic-Tac-Toe is a game usually played on a flat piece of paper. In this standard setting, there is winning strategy--that is, if the player who goes first chooses their moves correctly, they will never lose. But we can also play Tic-Tac-Toe on a surface that isn't lying flat in a plane! In this talk, we will explore the game of Tic-Tac-Toe on cylinders, donuts, and even some wilder surfaces. We'll look for optimal strategies, and learn some topology in the process.
December 16, 2019
2:45pm James Madison Memorial
Daniel Erman
Really Big Numbers
We will discuss the role that really really, really big numbers play in modern mathematics and in science. This will be a discussion of estimation and an introduction to some of the ways that mathematicians express unfathomably big numbers.
Spring 2020
Date
Location
Speaker
Title
Abstract
February 17, 2020
2:45pm James Madison Memorial
Maya Banks
Tic-Tac-Topology
Tic-Tac-Toe is a game usually played on a flat piece of paper. In this standard setting, there is winning strategy--that is, if the player who goes first chooses their moves correctly, they will never lose. But we can also play Tic-Tac-Toe on a surface that isn't lying flat in a plane! In this talk, we will explore the game of Tic-Tac-Toe on cylinders, donuts, and even some wilder surfaces. We'll look for optimal strategies, and learn some topology in the process.
March 9, 2020
2:45pm East High
Michel Alexis
Kakeya Needle Sets
Take a 1-inch needle. A shape in the plane (i.e. a shape you can draw on a piece of paper) is called Kakeya if we can place the needle within the shape, and by only rotating and shifting the needle within the shape (no lifting!) we can get the needle to point in all directions. We will think about what sort of shapes are and aren't Kakeya, how this affects their geometry, and how small these shapes can be.
April 13, 2020
2:45pm James Madison Memorial
Juliette Bruce
Canceled
TBD
April 20, 2020
2:45pm East High
Omer Mermelstein
Canceled
TBD
Useful Resources
Annual Reports
Archived Abstracts
2015 - 2016 Math Circle Page (Spanish)
Link for presenters (in progress)
Advice For Math Circle Presenters
Sample Talk Ideas/Problems from Tom Davis
Sample Talks from the National Association of Math Circles